Booking Form
Private Dining at Va Bene
Soffitta is our intimate private dining room located above Va Bene on the second floor.
Our private dining room can accommodate up to 30 guests. The room can be configured for dinner parties, showers and celebrations, working meetings, presentations and more. Soffitta is accessible via stairs to the second floor above Va Bene, with windows looking across Superior Street and up the hillside.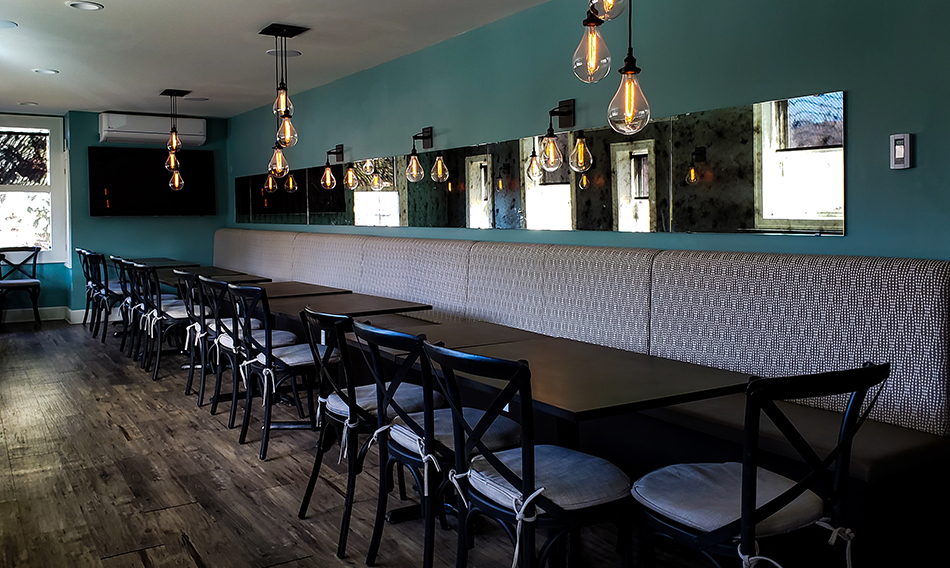 PRICING
There is no room rental charge.
We have a food and beverage minimum of $500 for evenings, $400 for lunch (11:00 – 3:00), plus sales tax and 20% gratuity.
If you do not consume at least the F&B minimum, we will apply an un-met food and beverage charge to make up the difference. Your minimum financial commitment, after tax and gratuity, is approximately $675 for evening events ($400 for daytime events). Most groups of 15 or more have no trouble reaching the food and beverage minimum.
FAMILY STYLE MENU
Our staff will work with you to create a menu tailored specifically to your needs.
For groups dining in Soffitta we offer family style service, where larger portions of a few of your favorite dishes are passed and shared around each table. We have you select 2-3 appetizers, 2 salads, and 3 entrees (no paninis). You may select these options from our regular restaurant menu. You will not need to worry about the quantities of these menu items as we will figure that out based on the amount of guests you have and number of courses you decide to have.
We do allow small parties (10 or fewer guests) to order individually off our menu on a case-by-case basis during off-season of November 1 through May 1.
Soffitta has a full bar with selections from our wine list, and bottled and canned beer. We also offer our signature martinis and cocktails.
You can also request a Coffee bar. This can be arranged to have at at any point in your event, whether that is at the beginning, end with desserts, or the entire duration of the event. The price for this is $20 per pot which serves around 8 people!
DESSERT
We would be happy to prepare a special dessert for your party. Cakes are $100, cheesecakes are $90, and serve 14-22 people each. All our fabulous desserts are prepared fresh, from scratch, and are sure to delight your guests. Our most popular choices include:
Bittersweet Chocolate Truffle Cake
Bittersweet Butterscotch Chocolate Truffle Cake
Bittersweet Marshmallow Chocolate Truffle Cake
Limoncello Cake with Limoncello Frosting
Caramel Toffee Pecan Cake
Apple Cake with Cinnamon Buttercream Frosting
Lemon Blueberry Cake
Italian Cream Cake
Cannoli Layer Cake
Red Velvet Cake with Cream Cheese Frosting
B-A-N-A-N-A-S Banana Pudding Cake
Nutella Chocolate Cake
Carrot Cake (with or without nuts)
Peanut Butter Chocolate Cake
Kahlua Coffee Chocolate Cake
Guinness Chocolate Cake
Maple Pancetta Cake
Pumpkin Cake with Maple Cinnamon Cream Cheese Frosting
Traditional cheesecake and a wide variety of delicious options including New York vanilla, pumpkin, white chocolate raspberry, caramel pecan, Nutella, dark chocolate, Oreo, strawberry swirl, and Snicker's.
Tiramisu
Panna Cotta with Sweet Berry Sauce
Creme Brulee – traditional or flavored with fresh fruit compote
We always offer a rotating selection of gelato and sorbetto flavors which provides an easy option for everyone ($6 per person).
AMENITIES
Our private dining room and meeting space can be configured for your event and tailored to your specific needs.
Soffitta is a private dining room with a door that can be closed. The room is a long rectangular space with banquette seating along one wall. Tables and chairs make up seating for up to 30 guests.
Soffitta has a full bar: wine, canned/bottled beer, our specialty cocktail and martini list, and a wide variety of liquors.
Soffitta has its own ADA-compliant restroom.
Soffitta has a wall-mounted 65″ HD Smart TV available for your use with HDMI and standard connections for your laptop, smartphone or tablet. Perfect for presentations and entertainment.
We can provide a variety of background music in Soffitta. You are also welcome to bring a smartphone or other device to play music from your personal collection. We have connections for all device types. No dancing or loud music is permitted as a private residence is located adjacent to Soffitta.
Soffitta is climate controlled for your comfort.
Please coordinate with us directly about any specific decorations you may wish to bring or arrange (e.g. flowers, balloons, linens). We ask that glitter decorations are avoided, glitter left over in the room is subject to a $50 cleaning fee.
FEES
No room rental fee. F/B Minimum applies.
There is no fee to use any of the A/V equipment.
A $50 fee will be assessed if you wish to use white linen tablecloths (optional). One week advance notice required.
A $20 corkage fee per bottle is charged if you wish to bring your own wine.
A $2 per person cutting and serving fee will be assessed if you wish to bring in your own cake or dessert. The dessert must be store purchased.
We require that all food and non-alcoholic beverages be presented on one check. Alcohol can be paid separately by each individual, but please let us know this prior to the event.
HOURS & AVAILABILITY
Soffitta is available during normal restaurant hours, 11am until 9pm, seven days a week.
Click Here to Check Availability
PAYMENT
A credit card is required to reserve Soffitta and hold the date of your event.
Bookings may be cancelled up to one week prior to the event without any penalty. Cancellations made under seven days prior will incur a charge of $250. Cancellations will only be accepted via email to info@vabenecaffe.com.
Your credit card is stored securely and also serves as insurance for any damage or broken items, or if professional cleaning were required as a result of your party. Any damages are the responsibility of the person/company booking the party and will be charged to the credit card on file.
Sales Tax: 11.125% (13.625% on alcohol)
Contact Information
Maggie Carlos
Manager / Event Coordinator
(218) 722-1518
maggie@vabenecaffe.com
VA BENE
734 E. Superior Street
Duluth, MN 55802
Reservations: Booking Form

This is a secure connection. Please complete the form below to book Soffitta.
Your reservation information will be delivered immediately, but your reservation is not guaranteed until confirmed by Va Bene staff.